Rates & Recession & DC Real Estate Buyers
The one-two punch of the pandemic and fed rate hikes in response to inflation has impacted the DC real estate market, but how much? And should buyers hold off in hopes of a 2023 buyer's market bonanza?
---
Well, probably not. While conditions are easing for buyers in the Washington DC real estate market, no one is expecting a fire sale.
As Howzer analysts put it in a September national market update:
"So, if you're one of those people waiting for the "crash" to buy, you should be aware that not only are we are exceedingly unlikely to see 2019 home prices ever again (it would require a housing market crash over 50% more severe than the great Recession), but also that it's not even guaranteed that we will see 2020 (or even 2021) home prices again, even in the face of increasing inventory. Though it's possible that 2023 or even 2024 home prices will be lower than 2022's, there is never a guarantee – and timing the market is exceedingly difficult.
All of that being said, things are certainly slowing. After a brief respite, average 30-year fixed mortgage rates have risen above 6% which is driving affordability challenges for buyers, especially when coupled with still significant year-over-year home price increases. Because of this we expect the trend of fewer homes going under agreement vs. this time last year, and year-over-year inventory increases to continue if interest rates stay at their current levels. Barring a major macroeconomic or Fed policy shift, we expect this slow march toward at least a less-strong sellers' market to continue unabated."
---
A recent post by Head of Economics, Morningstar Equity Research, Preston Caldwell stated:
"Though the Federal Reserve has announced it's hiking interest rates—again—and economic turbulence persists, our long-term optimism about gross domestic product and inflation remains largely unchanged.
We think the Fed is slowing the economy enough to help rein in inflation without provoking a major slowdown, and we're projecting annual real GDP growth rates to remain in positive territory. Although real GDP dropped in the first half of 2022, we don't think this marks a true recession, and we expect growth to bounce back later in 2022."
Caldwell goes on to say that rates are expected to drop again in 2023:
"We expect the Fed will pivot to easing monetary policy in 2023 as inflation falls back to its 2% target and the need to shore up economic growth becomes a top concern. The full analysis is detailed in our 2022 U.S. interest-rate & inflation forecast.
Interest-rate forecast. We project a year-end 2023 federal-funds rate of 1.75%, compared with 3.25% for the consensus. Further out, our 2026 and long-run projection for the fed-funds rate and 10-year Treasury yield are 1.75% and 2.75%, respectively. We do, however, expect rates to dip below these levels in 2024 and 2025 as monetary policy leans accommodative.
Inflation forecast. We project price pressures to swing from inflationary to deflationary by 2023, owing greatly to the unwinding of price spikes caused by supply constraints in durables, energy, and other areas. This will make the Fed's job of curtailing inflation much easier. In fact, we think the Fed will overshoot its goal with inflation averaging 1.4% over 2023-26.
The inflation analysis is critical to our near-term projections for GDP and interest rates. If inflation becomes much more entrenched, the Fed will have to engineer a sharp short-run recession by hiking interest rates much higher than we expect.
As long as the Fed is allowed to shift to easing in 2023, GDP should continue trending upward and then accelerate in 2024 and 2025. Housing, which is the most interest-rate-sensitive major component of the GDP, will drive much of the fluctuation in GDP growth. Lower rates in 2024 and 2025 will be needed to improve housing affordability and thereby resuscitate demand in the housing market."
Fed Rate Hikes And Mortgage Rates
"When the Fed hikes rates, borrowing gets more expensive -- but there's a silver lining."
---
The Federal Reserve doesn't set mortgage rates, but it does influence them. Mortgage rates are determined by economic factors like inflation, labor market, trajectory of the economy and the Fed's own monetary policy.
Yun Li of CNBC reported on September 21st:
"The Federal Reserve will raise interest rates as high as 4.6% in 2023 before the central bank stops its fight against soaring inflation, according to its median forecast released [last] Wednesday.
The Fed raised benchmark interest rates by another three-quarters of a percentage point to a range of 3%-3.25%, the highest since early 2008."
"Mortgage rates won't move in response to this rate hike, but will respond to changing expectations of inflation, interest rates and health of the economy. Still, mortgage rates have more than doubled to roughly 6% since the beginning of the year. A $500,000, 30-year fixed mortgage at a 6.5% interest rate translates to a monthly payment of around $2,900; at a 3.5% interest rate, the monthly payment is $2,200."
The silver lining? Alix Langone of CNET says:
"There are other factors that affect mortgage rates. When loan volume slows, lenders slash rates and loosen their credit requirements. Borrowers with a subpar credit score may actually have a better chance to qualify for a mortgage in a higher rate environment."
When it comes to how a bank decides to make a loan, macroeconomic factors are only one part of the equation. These specific factors help determine your particular mortgage interest rate:
C

redit score

The home's location
Home price

Down payment

Loan amount

Loan type and term

The type of 

interest rate
Those with subpar credit should be especially careful in considering mortgage loans, but in an aggressive real estate market like the one in the District of Columbia, qualifying for a higher loan amount, in tandem with softening prices and activity, could be a game-changer.
The DC Real Estate Market
---
An Urban Turf report today has this from Dr. Lisa Sturtevant, Bright MLS' chief economist:
"Home price growth has slowed considerably in the Washington, DC region as interest rates climbed over 6%. With the latest figures showing rates approaching 7%, market activity will undoubtedly continue to be slow. Low inventory should sustain stable prices across much of the DC region, but there are some local markets where we could see year-over-year price declines for the first time since the Great Recession.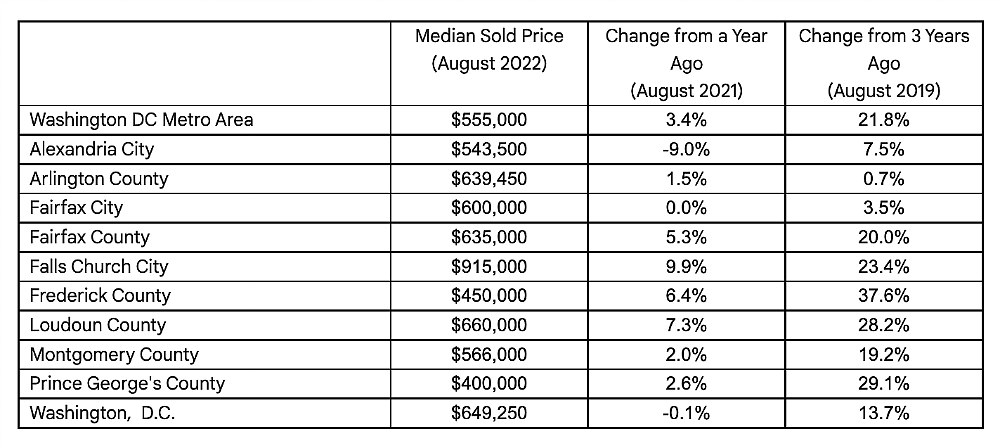 In August, the median sold price in the Washington metro area was $555,000 which was 3.4% higher than a year ago. The pace of price appreciation has slowed compared to the double-digit price growth we saw during much of 2020 and 2021. The region's median price is now more than $100,000 higher than it was three years ago—a 22% gain.
There will be a period of price correction in the region, as sellers are adjusting price expectations. During the last week of September, more than 60% of sellers in the District of Columbia had dropped their asking price. Expect price growth to be relatively flat during the last few months of the year, with the biggest risk of actual price declines in places where prices ran up more quickly than the metro average, including Prince George's County (+29% over the past 3 years), Loudoun County (+28%), and Frederick County (+38%)."
The DC Real Estate Market | Current Data
Data will auto-update monthly as market analysis is released to SmartCharts Pro
---
All Home Types & Locations In DC
The DC Real Estate Market | Our Take
---
We expect that the fall DC real estate market will continue to show more flexibility for some home types and locations, and an increase in activity for investors, cash buyers and those looking to purchase under less strenuous conditions than have ruled the market for the past decade. The fall market will likely give way in late November to the typical winter seasonal slowdown in December.
For those interested in purchasing in more favorable conditions this fall with financing–and the expectation of refinancing in late 2023 or 2024 when rates are forecast by some experts to decrease–we recommend due diligence on rates forecasts and a thorough review of finances and mortgage loan products with an experienced loan officer prior to making a decision.
Today's rates are lower than next month's rates, and that trend seems sure to continue into the early spring real estate market. So with careful consideration, buyers have an opportunity to avoid bidding wars, negotiate more favorable terms, and purchase their first choice home in fall 2022, with the hope of refinancing at a more favorable rate late next year or in 2024.
Washington DC real estate is an excellent investment, both personal and financial. Rates rise and fall, but the value of DC real estate goes in one direction over time. Up.
10 Year DC real estate price history by Quarter courtesy of SmartChartsPro. A 20 year history was not available.